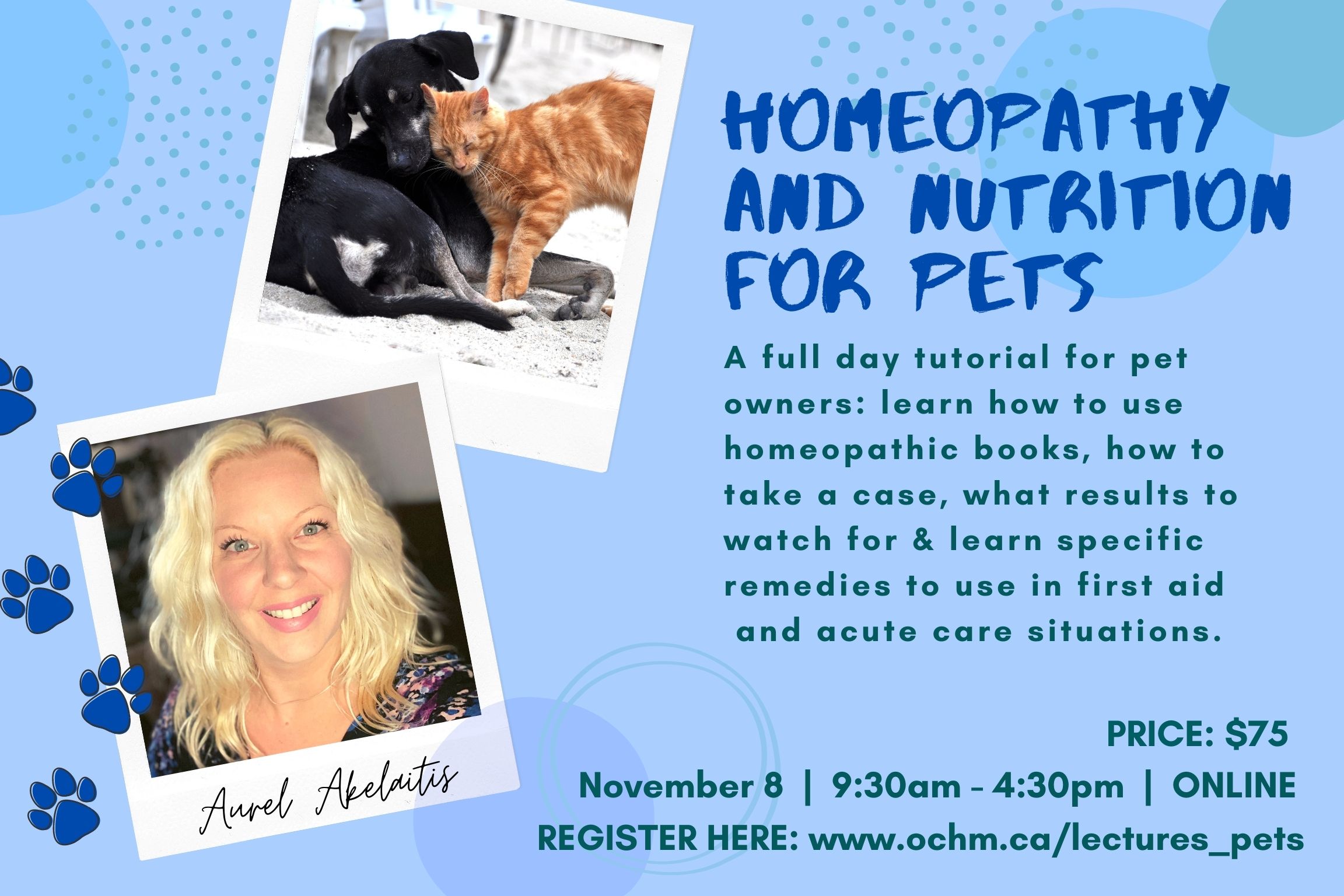 Homeopathy and Nutrition for Pets
We have EXPANDED the curriculum of our "Homeopathy for Pets" seminar.
While Homeopathy is the focus of the day, we feel that Homeopathy without addressing he proper nutritional requirements of pets is not enough. Without proper nutrition, one simply cannot achieve optimal health and of course, that is what we want for our pets!
With this additional burst of invaluable curriculum, we are delighted to welcome a lecturer who can teach both pet nutrition as well as homeopathy for pets. Aurel Akelaitis achieved her masters degree in biochemistry and subsequently graduated from the Ontario College of Homeopathic Medicine (OCHM) in 2010. She has always had a passion for health care, especially for animals. Her graduating thesis topic was "Homeopathy for Animals and Its Importance".
Aurel lectured at OCHM and taught Veterinary Homeopathy for several years. She was also a teaching assistant at the Canadian College of Naturopathic Medicine where she introduced and practiced homeopathy with Naturopathic students. She has experienced the beneficial effects properly prescribed homeopathic remedies can have in treating a variety of ailments and loves to share her knowledge.
The Homeopathy & Nutrition for pets seminar on November 8th, 2020 promises to be a fabulous lecture and one that will be incredibly rich with knowledge and practical, applicable skills.
In this packed, full-day tutorial for pet owners, Aurel will share her first-hand experience using homeopathy with pets, incorporating nutritional protocols to optimize their health. You will learn the basics of how to use homeopathic books and medicines at home, how to recognize symptoms in an animal, what remedy to prescribe when the pet is feeling "off", what results to watch for, specific remedies to use for first aid and acute care situations, and much more.
Course notes will be provided. Bring your questions, an open mind, and plenty of energy for taking home brand new tools to keep your pets healthy, using safe and effective homeopathic medicines and nutritional protocols.
Curriculum:
– Introduction to Homeopathy
– Understanding the scientific foundational principles of Homeopathy
– Posology – what are potencies and how to use them
– Homeopathic medicines – sources, classifications, study
– Taking the case, observing symptoms
– Managing the case
– Focus on acute illness and first aid
– How to optimize your pet's nutritional needs
To Register, please CLICK HERE
We look forward to seeing you at this seminar that is going to be SO rich with learning!