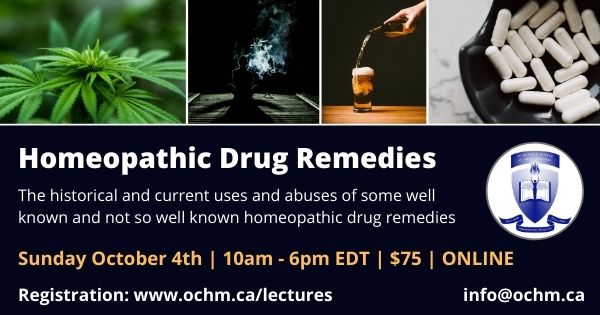 Homeopathic Drug Remedies
Homeopathic Drug Remedies: 
The historical and current uses and abuses of some well known and not so well known homeopathic drug remedies
Date/time:  Sunday, October 4, 2020  (10am – 6pm‬ EDT)  |  Cost: $75  |  Lecturer: Joy Burlton
In this exciting lecture we will explore the historical and current uses and abuses of some well known and not so well-known drugs, as they pertain to Homeopathy.
We will delve into identifying and differentiating between types of drug and drug like states so that they are clearer and more easily identified, while deepening our understanding of the themes and materia medica of this family of remedies. We will be looking at drugs as causative or maintaining factors for our patients as well as addiction through the lens of self medication and like cures like.
Bring your enthusiasm, questions and curiosity to learn all about this amazing group of remedies.
We will be covering the following remedies: Ayahuasca, Cann-I, Cann-s, Psil, Coca, Tabaccum, Nicotinum, Chlor, Caffeinum, Morphinum, alcohol, LSD, Ecstacy AND drug-like remedies in the Solanaceae family as well as some gasses.
This is going to be a FULL day's class, accessible over ZOOM.
Details:  Sunday, October 4th, 2020 from 10am – 6pm  EDT  (7am – 3pm PST)
Cost: $75 (recording will be available if you are not able to make it live)
Instructor: Joy Burlton
Joy Burlton received her Bachelor of Health Sciences Degree from the University of Western Ontario, always having had an interest in medicine. After a lot of investigation into different modalities she discovered homeopathy and found it to be a perfect fit for the type of deep healing she valued.
Homeopathy, she found was the perfect tool to aid others in experiencing this type of healing and lasting health. She then went on to achieve Honours in her four-year post-graduate Diploma in Homeopathic Medicine and Health Sciences at the Ontario College of Homeopathic Medicine (OCHM).
Joy is a licensed Homeopath and has been practising in Toronto since 2007.  She has enjoyed growing her practice and raising more awareness about homeopathy in Toronto and surrounding areas.  Joy is part of the faculty at OCHM and is a clinical supervisor.  Our students love her depth and breadth of knowledge and the many case examples she brings to her teaching.
We look forward to seeing you soon!